Bloom is currently one of the only shopping rewards apps that allows you to earn points, rewards and cryptocurrency by simply linking your card to the app.
👋Welcome to the official Bloom blog🦉. Here we will discuss all facets of the Bloom shopper rewards app, inform you of how it works⚙️, provide news and updates📰, explain web3 concepts via explainer guides, and also review and highlight industry news and developments in the crypto and gaming space.

💛Our team is proud to be launching this unique product onto the market and we are excited to be able to deliver this to several different markets.

Here are a few ❓frequently asked questions❓ and some further information to help get you acquainted with what Bloom has to offer.

❓WHAT IS BLOOM?

🛒 Bloom is a shopper rewards app currently available in the Hong Kong, Singapore, Australia, and New Zealand region (but we have plans to soon expand to more regions).

In its basic function, our user-friendly, web3 app allows users to earn rewards such as Bloom Coins and redeem coupons by shopping for items within our app's eShop.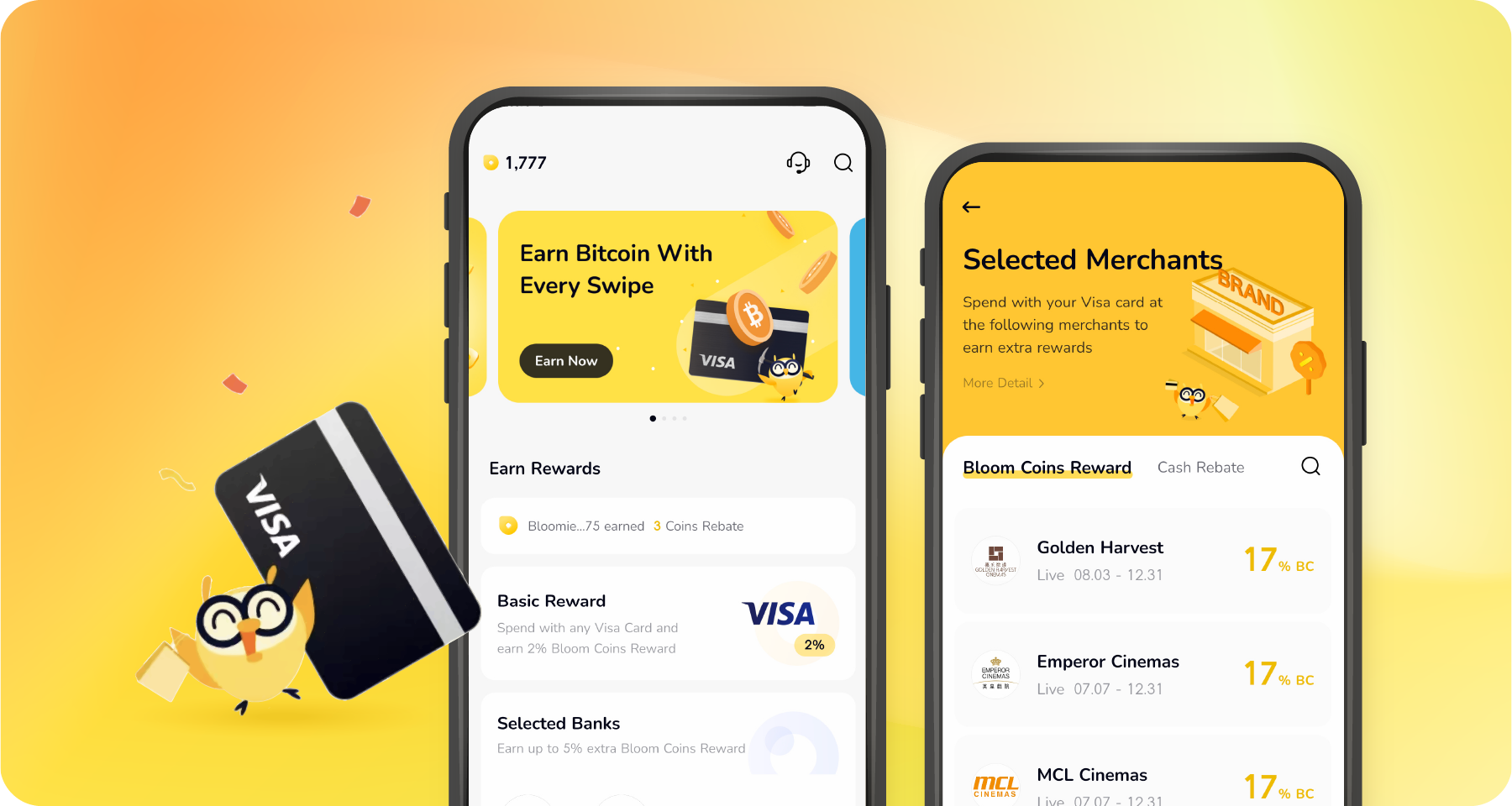 ❓WHAT ARE BLOOM COINS?

Bloom Coins form our in-app reward system (like reward points). They can be used to redeem coupons and items in our store from many of our brand partners.

Our app also has a conversion tool that allows users to convert Bloom Coins earnt from every day spending into popular cryptocurrencies such as Bitcoin (BTC), Ethereum (ETH), Solana (SOL), Cardano (ADA), Polygon (MATIC), Dogecoin (DOGE), Shiba Inu (SHIB), Cronos (CRO), Gala (GALA), Sandbox (SAND), Smooth Love Potion (SLP), Axie Infinity (AXS), Decentraland (MANA), and OKC Token (OKT).
❓ HOW DO YOU EARN BLOOM COINS?

📲 The initial step would be to download the Bloom app to your mobile device from either the App Store, Google Play or install the APK file directly.

📱 Once installed, you will need to register your account with a verified phone number and email address within the app.

Once your account is registered, you can now link your Visa credit or debit card. All activity on the card will earn Bloom Coin rewards at a rate of a 2% Basic basic reward.

🛒 By shopping at over 80 of our local and regional merchant brand partners with any linked Visa card, you can enjoy higher Bloom Coins rewards as well!

👉Example
Let's say you want to spend a night in Seoul, South Korea.

✈️We currently work with several online travel agencies such as Trip.com, Expedia, KLOOK, and Hotels.com. After browsing these travel sites, you find a good deal on Trip.com for a Classic Deluxe King Room at the L'Escape Hotel Myeongdong Seoul.
The total accommodation costs for the weekend would amount to HKD$957 for one night.
Your Bloom Coin earnings would be as follows:
At the base rate of rewards at 2%, you would earn approximately 20 Bloom Coins.

By using our travel and bank partners, you can increase your earnings even more.

Bloom Coins, once earned, will be rebated directly into your Bloom account. Here is where you will be able to redeem your Bloom Coins for free gifts, coupons, cryptos, NFTs and many exclusive discounts.
👀 Please note that it will take approximately 5-10 days for Bloom Coins earned to be processed and subsequently reflected in your Bloom account.
❓ HOW IS BLOOM DIFFERENT FROM OTHER SHOPPER REWARDS APPS?

💫 Bloom is currently one of the only shopping rewards apps that allows you to earn points, rewards, NFTs and cryptocurrency by simply linking your card to the app.

🤝 A unique feature about Bloom is our strategic partnership with Visa. This enables us to support a seamless shopping experience with a streamlined rewards system. Bloom is not a payment gateway, nor do we require you to install a web browser extension or require our users to shop via links within our app. Our partnership with Visa enables all rebates to be rewarded automatically without requiring the user to open the app before making a purchase payment. Just swipe the card like you normally would, and watch your rewards grow in the App.

💰 We recognize the changing and evolving nature of commerce in the marketplace and are incorporating web3 and decentralized rewards and features into our app. Bloom is one of the only shopper rewards apps that allows the earning of cryptocurrency. Our Bloom in-app store even allows the possibility to purchase NFTs within the app. With Bloom, you will have access to cryptocurrencies and NFTs without any kind of deposit.
❓ DOES BLOOM OFFER ANY NEW USER REWARDS?

Bloom offers several rewards for new users when they join up and begin using our app.

🎁 New users will receive US$2 in Bitcoin when they link their Visa card for the first time.
🎁 New users will also receive US$2 in Bitcoin after they receive their first successful purchase rebate.

🎁 All users can also earn more by inviting friends to download the Bloom app and register. For each friend that joins, users will receive 2,000 Bloom Coins each.
🕑
Act fast! From May 10 to August 10 2023, invite your friends to join Bloom and enjoy our exclusive offer. You and your referral will get 5,000 Bloom Coins each. Share the love and share the rewards while this limited-time offer lasts!
❓ WHAT ELSE ARE WE OFFERING?

🏅 Complete specific Bloomie Quest challenges for extra Bloom Coin rewards e.g. Link new Visa cards or spend HK$3000 cumulatively on your CITI card.

🦉 Catch Bloomie is our little lucky drop game where you can win an earning percentage boost on your current purchase.
🎓 Want to learn and earn💰? By simply reading our Bloom blog posts, you can earn extra Bloom Coins. All you need to do is answer a few basic review questions at the end of each blog article. Who knows… you might even learn a thing or two about web3 and crypto!🤓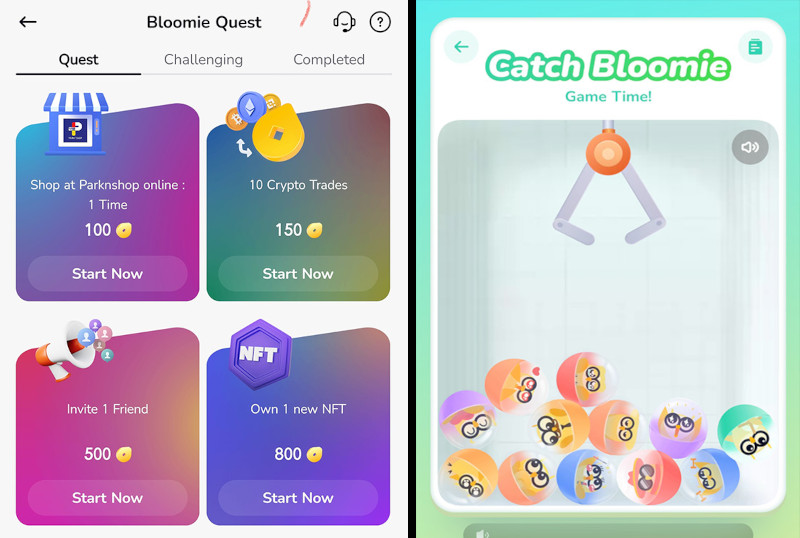 So what are you waiting for?
Let's Bloom!